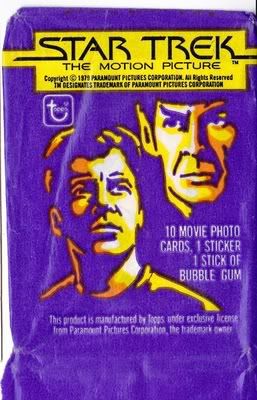 Much like the movie itself, people are going to either love or hate this pack.
Star Trek The Motion Picture came out in 1979, nearly 10 years after the original TV series ended. The timing was largely a response to the overwhelming success of Star Wars. At the time it came out it was the most expensive movie ever produced. The movie was rushed to meet deadlines and was released to largely negative reviews (panning everything from the plot to the special effects). Many Trekkies, myself included, still found some redeeming qualities in the film and even came to love it for all of its quirks.
Merchandising was a huge part of the promotion involved around the movie and the 1979 Topps Star Trek cards were part of this merchandising.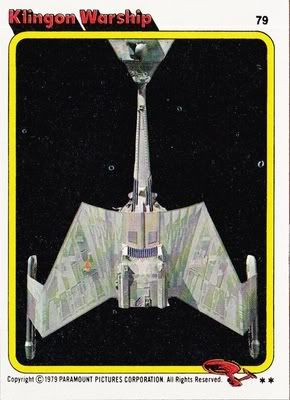 A scene featuring these Klingon Warships opened the film. Though the Klingons played a negligible role in the movie (they made no appearances after the first few scenes) this film introduced the updated look of the Klingon anatomy as well as the intimidating Klingon "Theme" composed by Jerry Goldsmith. Both of these elements lasted the entirety of the Star Trek canon following this movie.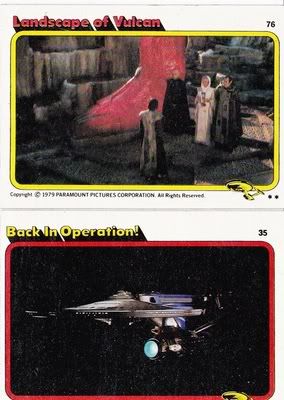 Featured here is the planet Vulcan and refitted USS Enterprise. A large scene toward the beginning of this film was spent showing various camera angles of the Enterprise and Captain Kirk's reactions to seeing it. Some found it creepy, others amusing. I thought it was pretty cool.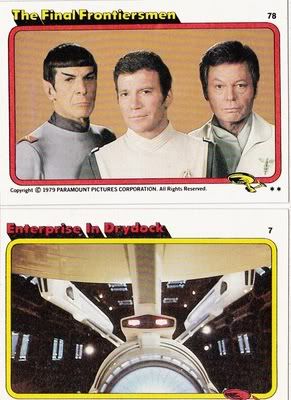 Here is a photo of the "Big 3" (Spock, Kirk, McCoy) and another shot of the Enterprise in drydock. The uniforms pictured in the crew photo were featured for the first and last time in this film.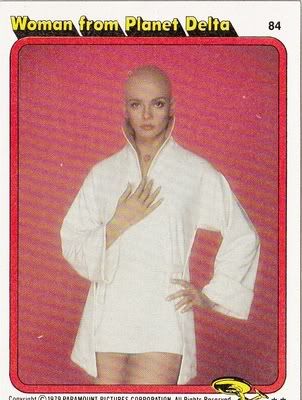 Here is a shot of Lt. Ilia, played by Persis Khambatta. Interestingly enough, the card just refers to her as the "Woman from Planet Delta". The cards have no text on the other side (they form to create a giant poster) so unless you saw the movie or one of the other cards in the set you would not know her name. Oversight? Perhaps this card was designed before they had established a name for her? Who knows.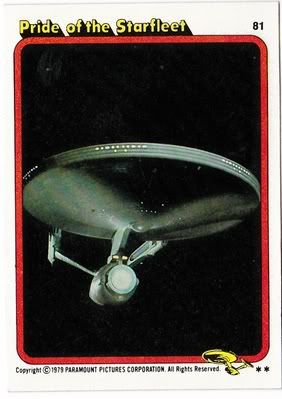 Another shot of the refit enterprise.
Here is a sticker of Spock. His long hair was present for the Vulcan ritual toward the beginning of the film. He received a prompt haircut upon returning to the crew.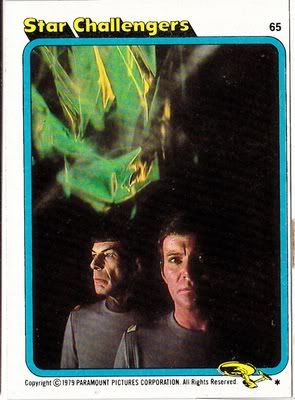 I don't really know whats going on in this shot.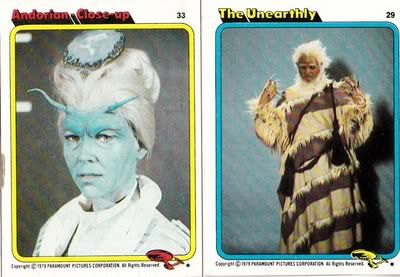 Finally, two alien shots. There were few close ups of the alien crew members in this film...in fact I do not recall seeing either of these for more than a second or two throughout the film. I guess they figured "we got them all made up, might as well take some pictures".
Anyway, I enjoyed opening this pack. It commemorates one of my all-time favorite films. Plus, opening 30+ year old wax is always a blast. No, I didn't chew the gum.