Today I bring to you a pack of 1998 Topps Stadium Club. About a year ago I broke a pack of the odds. This time, we do the evens.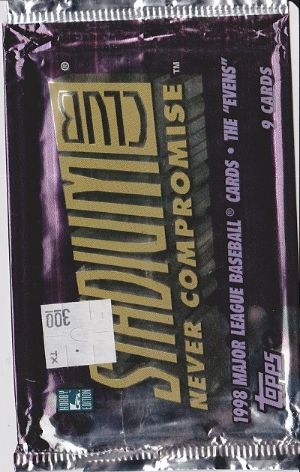 Shall we?
Staring things off are three of the premier pitchers of the 90's. Okay, one sub-.500 pitcher and two of the premier pitchers of the 90's.
Lankford is the only player to have 200 home runs and 200 sb's as a Cardinal. We all know Sosa's credentials.
Here are two of the more common inserts. Andy Benes had a pretty solid career, racking up exactly 2000 K's. Nunez plays in Worcester, MA for the Can-Am league now.
Here is an upside down checklist and Brian McRae who never quite lived up to his father Hal's legacy.
The royal court inserts fall at about 1:36 packs so apparently I got lucky. This is a nice hit. Cool 90's insert.
I'm happy with how this pack turned out. Are you?