It has been too long since my last post. Today we have a retail blaster pack of 2013 Bowman.
Key rookies in this set include Manny Machado and Jurickson Profar. That's quite a handle... Jurickson Profar. Sounds like a power tool or piece of heavy machinery.
Anyhow, onto the pack.

Iwakuma, Escobar, Frazier, Scutaro. Marco has aged very gracefully, particularly for an infielder. Still very productive.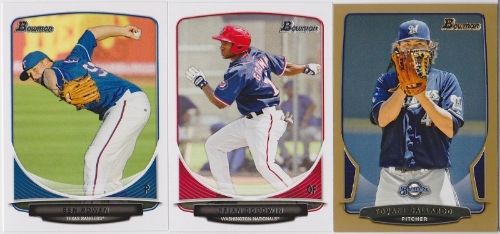 Ben Rowen, Brian Goodwin, and Yovani Gallardo. The gold parallels fall about 1/pack. Fun fact...Yovani, in his first 7 seasons, has 11 home runs and 28 RBIs, and he's a pitcher. For comparison, Omar Vizquel had 13 home runs in his first 7 seasons.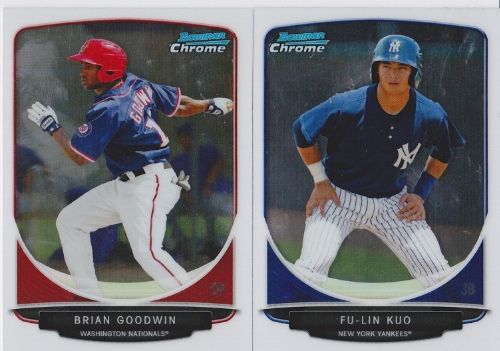 Here is the chrome version of Brian Goodwin and Fu-Lin Kuo. I don't have any dirt on either of these guys.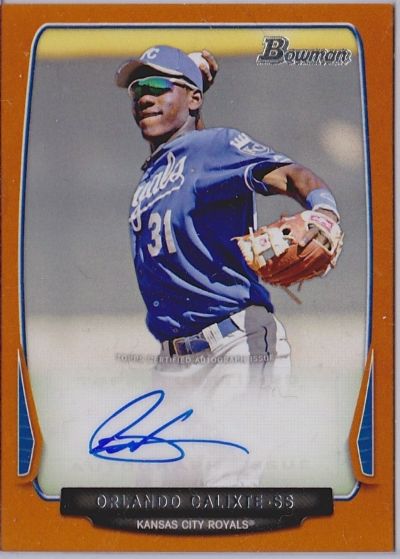 Woohoo! Retail auto hit. This is an orange parallel auto (1/230 packs) numbered to 250. Not much dirt on him either...he's only 21. He does have a .930 fielding percentage in the minors thus far.
Thanks for looking!